On March 9th, 2019, a family member dropped Eugena Martinez off at the Taco Bell in Gallup, New Mexico. She was meeting her boyfriend, Tyrannus White, who was at the Red Roof Inn. (However, an article in Gallup Sun says the last time anyone had seen Eugena was in February 2019, at the McDonald's on the west side of town, and says Tyrannus had picked Eugena up on March 11th instead.)
March 9th was the last time anybody would see or hear from Tyrannus or Eugena.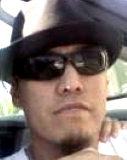 Tyrannus on the left, and Rayven's mother – courtesy of Rayven White
Tyrannus, also known as Gino, and Eugena, also known as Gena, had been together off and on for two years. Gena lived in the Crownpoint area, and since neither she nor Gino had a car, they often caught rides from Gena's family member. They are both members of Navajo Nation, and have family in the Gallup and Crownpoint areas of New Mexico, as well as Arizona near the border.
On March 9th, 2019, Gena was posting quite a bit on her Facebook. She wrote "Nope not today, I don't need that today, I'm sure I don't need that today," and "Wow!!!! Ok now I see what they all tried to do but I jus hope yall know when its my turn I ain't gonna play nice….. probably I dont play so anyway hope yall have a good day," as her last two status updates, followed by a couple memes. Gino was active not on his Facebook that day, but he was posting comments on some of Gena's posts. Some of their comments to each other insinuated that they had recently gotten back together after a short breakup and were happy about that.
There was also a comment on a March 9th post of Gena's that said "Were my fucking cash for them iteams I gave u to sell." This person commented occasionally on her posts at other times but no other comments were aggressive.
March 9th was the last day Gena was active on her Facebook. Since then, there has been no activity on hers or Gino's profiles that I can see (but I'm not a super sleuth or a hacker, this is what anyone without skillz could find).
I spoke with Rayven, Gino's daughter. Rayven told me although her dad has had some issues with law enforcement in the past, he is a very loving person and would do anything for his family. In fact, of the two articles I could find regarding Gino White, one was about an arrest, and the other was a single article on his disappearance. When I asked her about police involvement in their case, she replied, "No, the police didn't do much. We are a lil disappointed with them honestly.. it's like they don't care probably because he has a bad history but that's not cool…
"I would like to let the public know that my dad is a good person with good intentions. He has a very big heart. He helped everyone in anyway he could, he loves his family and friends."
Even though Gino is no longer in a romantic relationship with the mother of his kids, Rayven told me they have a great relationship, one she described as "basically best friends." Rayven also told me Gino has never disappeared like this before, and is always in contact with family and friends- whether her, her brother, her grandmother, or her mom. She last heard from him on March 1st.
Another odd detail is that the family repeatedly called Gino after he was reported missing. Rayven says that the phone was still ringing when family called, for several months after he had disappeared. It eventually went dead, then was charged and rang again, but, she says, it was never answered.
Lieutenant Billy Padavich of the Gallup Police Department said in a Gallup Sun article that Gena and Gino disappeared on a different timeline than reported on NAMUS or Charley Project- that Gena was last seen in February, the last known location of Gino was unknown, and that he was reportedly picking up Gena on March 11th. Padavich also stated that Gena and Gino's information had been entered in the FBI's National Crime Information Center database by June 6th, 2019, and that police had tried to ping the couples' cell phones and tried various other methods of getting in touch with him. He said he had notified narcotics officers to look out for them on the streets of Gallup, but that he believed they were no longer in the area and possibly not together.
I wasn't able to get in touch with Gena's family, but it is clear that they also want her to come home. She has two children.
Gino has three children- Rayven, her younger brother Tayven, and a young son. They are desperate to have their father back.
Tyrannus Gino White
"Dine"
Missing From

Gallup, New Mexico

Classification

Missing

Sex

Male

Race

Native American

Age

41 years old

Height and Weight

5'8, 160 – 170 pounds

Clothing/Jewelry Description

A red, gray and black Chicago Bulls jacket, black pants and a black Chicago Bulls baseball cap.

Distinguishing Characteristics

Native American male. Black hair, brown eyes. White has the following tattoos: an eyeball on his upper arm, the names "Rayven" and "Tayven" on his arms, feathers and Navajo baskets on his chest, and the word "WHITE" on his back. A photo of one of his tattoos is posted with this case summary. White's nickname is Gino. He is of Navajo descent.
Eugena "Gena" Martinez
Missing Since03/09/2019

Missing From

Gallup, New Mexico

Classification

Missing

Sex

Female

Race

Native American

Date of Birth

07/07/1987 (33)

Age

27 years old

Height and Weight

5'4, 125 pounds

Distinguishing Characteristics

Native American female. Brown hair, brown eyes. Martinez's ears are pierced and she may wear eyeglasses. She has tattoos on her right shoulder and on the left side of her back. Her nicknames are Chem and Gena. She is of Navajo descent.
If you have any information about Gena or Gino, please call the Gallup Police Department at 505-863-9365.
Sources:
Charley Project: Gena and Gino