Hi everyone! Here is another New Mexico missing person- a woman who went missing while leaving behind her needed possessions- glasses, phone, wallet, and medication.
Angela Kelton-McManes, also known as Angel, was last seen on May 13, 2019.
Angel had graduated from Jal High School in 1994, went on to New Mexico Junior College, and eventually worked as a 911 dispatcher in Jal, New Mexico and the Eunice Police Department, according to her Facebook. She has three children, two daughters and a son, who all live with her sister, Kris.
On June 17th, McManes' children and her sister, Kris, came by Angel's house to pick up some belongings. To their surprise, Angel was not home, but her cell phone, glasses, diabetic medication, money, cigarettes, and her only bra were there. Angel was a frequent traveler to other places, such as Texas and Colorado, but would never leave home without her cell phone or medication. After Kris called around to family and friends, it was determined that nobody had seen Angel since May 13th. Kris reported her missing to the Jal Police Department the next morning.
"It's strange, now. Her son graduated high school at the end of May. She missed her middle daughter's 13th birthday. There's just a lot of things that happened that she wouldn't have missed regardless of where she was or what she was doing," Kris stated to the Hobbs News-Sun in January of 2020. At that time, she had been missing for just 8 months. Now it has been almost two years since Angela was last seen.
In the January 2020 edition of the Hobbs News-Sun, Detective Montez of the Jal Police Department stated that there were various rumors circulating Angela's case. "Those are just rumors. The sheriff's office has come down to help with the investigation. They went back to the (McManes') house to do some follow up, to make sure we didn't miss anything, and that just got the rumor mill going down here. But there hasn't been any update or anything." The detective did not elaborate or share what rumors had been heard. At that time, the Lea County Sheriff's Office requested files from the Jal Police Department and took over the investigation.
There have been no follow-ups in newspapers since then.
Angel is very recognizable. She is just 4'11 and 90 pounds with black shoulder-length hair and hazel eyes. She typically wears glasses, but they were left behind. She has various tattoos, such as "sexy" in pink and black cursive on the back of her neck, Tinkerbell on her left breast, "Angel" on her right breast, a red-eyed tree frog on the back of her left calf, and a yellow and black smiley face on her right calf.
If you have any information about Angela or her disappearance, please call Lea County Crime Stoppers at 575-393-8005 or the Lea County Sheriff's Office at 575-396-3611. Angela's family wants her home.
Edit: A lot of folks asked why Angela's kids didn't live with her. While I don't know the answer, here's more info and you can make your own guesses. Her husband, who is mentioned on the Imgur files, is not mentioned anywhere on Angela's Facebook, her missing person's page, or in any news articles about her disappearance, so it seems to me that they were likely not together anymore.
There was also a note on one of the articles that Angela had recently been in poor health.
Edit 2: I've been in touch with Angela's sister, Kris. She added a few details that were helpful:
-Yes, Angel was somewhat living on the margins. The sisters had a falling out, which is why they didn't speak more often.
-Angel had been abusing drugs and prescription drugs- but I'm not sure when the abuse started, or what drugs were being abused.
-Angel did wear a larger size bra (not that this really matters, but a lot of people on Reddit wondered) and it would probably be uncomfortable for her to go without one. Kris found it being left behind bizarre.
– One thing that seems to have cemented foul play to Kris is that "Angel had several dogs & they were locked up inside her house at her disappearance. Whoever took or got her out of there knew the dogs well. NOONE could just walk in the house without being attacked."
-Angel's parents do believe that her husband was somehow involved in her disappearance, per Kris. He was sentenced to prison on December 29th, 2020 from the criminal sexual penetration charges and has yet to be sentenced for other charges of the same nature. Kris told me that he got three years from the first two sets of charges.
Reddit discussion:
Sources:
https://www.facebook.com/AngelaAngelLadawnKeltonMcManes/
Courtesy of Missing Jal Mother Facebook page
Courtesy of Missing Jal Mother Facebook page
Courtesy of Missing Jal Mother Facebook page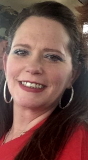 Courtesy of Charley Project